COMPANY INTRODUCTION
MEDIZEN HUMANCARE is a research company that
engages in genomic analysis to predict diseases on an individual basis.
What is MEDIZEN HUMANCARE Genomic Analysis?

MEDIZEN HUMANCARE Genomic Analysis is a healthcare service that analyzes and predicts the vulnerability of
individual patients to the risk of diseases through genomic testing. It is a healthcare program that predicts genetic risks through DNA analysis,
and analyzes the direction of future healthcare by considering environmental factors, lifestyle habits, dietary habits, and more.
M-CHECK for Disease
Prediction and Early Prevention

MELTHY, SMART Life Health Genomic Service

Personalized Genomic Disease Prediction Service,for both Asian and Caucasian
Measurement of the Risk of Occurrence of Many Types of Diseases, such as Cancer and Chronic Diseases
Analysis of Genetic Association Related to Physical Characteristics

Medical Institutions, Clinics,
Pharmacies, Government Agencies and
Affiliated Organizations

Personalized Health Examination in Genomic Analysis
Providing Personalized Genome-based Drug Information
Design and Analysis of Exercise, Skin Care, and Life Health

Development and clinical trial of Disease
Diagnostic Kit and Establishment of Clinical
Genomic Database

Development of Diagnostic Chip for Diagnosing Genetic Variation
Development and Commercialization of Disease Diagnostic Kit
(For Cancer, Myocardial Infarction, and Stroke)
Establishment of Integrated Diagnostic Database Related to
Disease Prediction (Clinical and Genetic Information)
CEO GREETINGS
The core goal of Industry 4.0 (4th Industrial Revolution),
a key topic for the 21st century, is to realize an industry that
contributes to the peace and happiness of humankind.
The most central topic among the major categories of Industry 4.0 is human health. The paradigm of medicine has already shifted from one of treatment after the occurrence of a disease to precision medicine that is applied to individually customized prevention, utilizing diverse information on the individual patient including clinical and genetic information.
MEDIZEN HUMANCARE will become a leading company in the realization of precision healthcare, which predicts the risk of disease for each individual based on integrated big data, and provides preventive and care solutions accordingly.
2018 is the first year in which a number of our businesses were promoted in earnest, including our molecular diagnostic products related to early diagnosis of cancer and severe chronic diseases, our premium healthcare platform, our genetic resource and big data banking for various ethnic groups including Koreans, and our discovery of candidate materials for new genomic drugs, as a domestic company focused on genomic analysis in South Korea. Although there will be many challenges and ordeals both inside and outside of the company, the employees of MEDIZEN HUMANCARE will devote themselves make MEDIZEN HUMANCARE a major total healthcare company in South Korea, with new concepts that will help us reach out to the world.

Thank you.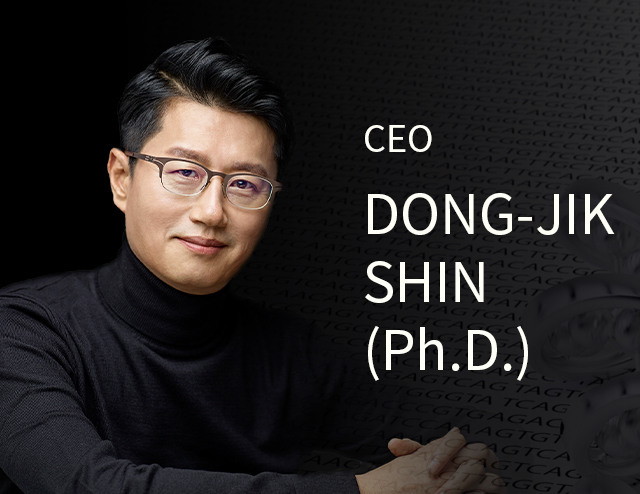 VISION
Leading Company in Customized
Precision Healthcare Created
through
the Fusion of Specialized Technology
MEDIZEN HUMANCARE pursues the development of premium healthcare that is individually customized through the use of
genomic information related to diseases, drugs, physical characteristics, genetic history and more, as well as a molecular diagnosis and big data banking
business for the prevention of diseases. To provide diverse healthcare solutions, information technology (IT) is integrated based on the comprehensive
consultation by medical specialists in each area of specialization, including pharmacological experts, skin care, nutrition, and exercise specialists, to
establish a systematic and comprehensive platform. Through fusion with artificial intelligence (AI) in the future, the company will provide a new-concept
ubiquitous healthcare system that will be human and family-friendly. Already domestically established, MEDIZEN HUMANCARE is
reforming to become a universal company that is reaching out to the world in Asia including China, the Americas, Europe, and more.
MANAGEMENT PHILOSOPHY


MEDIZEN HUMANCARE pursues innovative business management in order to become a transparent, trustworthy,
and exemplary company that works to promote the health and welfare of humankind. The company has a corporate system of innovation,
development, mutual trust, and unlimited communication, and works with a spirit of "no surrender , no going back" in order to
reach the level of global companies.
CORPORATE IDENTITY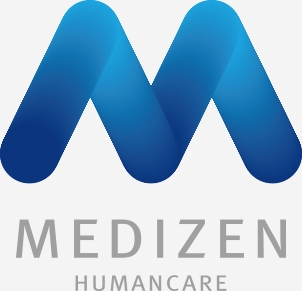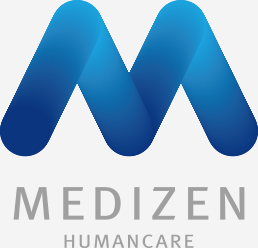 The word 'MEDIZEN' in MEDIZEN HUMANCARE is a word in which medicine, genomics, molecular diagnostics, data and others,
are fused with the meaning of "Medicalomics Citizen ," and refers to everyone utilizing such information. In addition, the word 'HUMANCARE' shows that
the company provides customized healthcare for each individual, and the blue M in the company logo expresses the intent to realize precision
healthcare through the fusion of information.
HISTORY
The Footsteps of MEDIZEN HUMANCARE
2012
July

Founded MEDIZEN HUMANCARE Inc. / Launched"M-CHECK", Genomic Analysis System for Disease Prediction

October

Registered Company R&D Center (Korea Industrial Technology Association)
2013
May

Registered Genetic Testing Center and Genetic Research Center
(Korea Centers for Disease Control and Prevention at the Ministry of Health and Welfare)
Registered Institutional Bioethics Committee
(Korea Centers for Disease Control and Prevention at the Ministry of Health and Welfare)

September

Registered as a Venture Company (Korea Technology Finance Corporation/ Korean Venture Capital Association)
2014
January

Selected as a Family Company by the Small and Medium Business Corporation
2015
June

Became a Full Member of the Korea Genome Industry Council at Korea Biotechnology Industry Organization

August

Acquired Quality Management System Certification (ISO 9001)
2016
January

Listed on KONEX (Stock Exchange) on January 26

May

Certified as the Highest Grade (Grade P) Institution for Accurate Evaluation in Genetic Testing in 2015

July

Listed in "2016 Marquis Who's Who Publication Board"

August

Received the Grand Prize in the "Genomic Testing Field" for Leading Companies in South Korea

October

Launched "MELTHY," a Domestic Genomic Testing Kit for Non-Medical Institutions (Direct-to-Consumer, DTC)

November

Received Brand Award in the Healthcare Field from Hankyung

December

Launched "MELTHY ASIA," a Genomic Testing Kit for Asians
(For the Asian Region including Japan, the Philippines, Mongolia, China, Taiwan, Vietnam, Singapore, Indonesia)
2017
January

Certified as the Highest Grade (Grade P) Institution for Accurate Evaluation in Genetic Testing in 2016,
for a SecondConsecutive Year

February

Tested 170,000 Domestic Cases of Genomic Testing for Disease Prediction

March

Relocated the Company Building (Keungil Tower, Teheran-ro)
2018
January

Certified as a Highest Grade (Grade P) Institution for Accurate Evaluation in Genetic Testing in 2017,
for the Third Consecutive Year
ETHICS

In accordance with the Bioethics and Safety Act, MEDIZEN HUMANCARE is
an institution registered by the Institutional Review Board (IRB) ensured with
bioethics and safety that handles research, genes, and other tissues
that come from humans or their derivatives.
Legal Basis

Article 10 (Establishment and Functions of Institutional Bioethics Committees)

1.Institutions specified in any of the following subparagraphs shall establish an institutional bioethics committee (hereinafter referred to as "institutional committee") in order to ensure bioethics and biosafety:

①Educational institutions, research institutes or hospitals to which individuals who conduct human subject research (hereinafter referred to as "human subjects researchers") belong;
②Educational institutions, research institutes or hospitals to which individuals who conduct human materials research (hereinafter referred to as "human materials researchers") belongs;
③A medical institution designated under Article 22 (1) as specializing in producing embryos;
④A research institute registered pursuant to Article 29 (2) as specializing in embryos;
⑤A research institute registered pursuant to Article 31 (3) as specializing in somatic-cell cloning embryos, etc.;
⑥A human materials bank operating with permission from the Minister of Health and Welfare under Article 41 (1);
⑦Other institutions specified by Ordinance of the Ministry of Health and Welfare as institutions likely to substantially affect society in connection with bioethics and biosafety.
Basis

It is an institution where testing is conducted with the consent of subjectsor their legal representatives in compliance with Chapter 4 Articles 24-30 of Bioethics and Safety Act.
LOCATION
6F, 6, Jeongui-ro 7-gil, Songpa-gu, Seoul, Republic of Korea

Tel. +82-2-555-9808 / Fax. +82-2-555-9805 / E-mail. info@medizencare.com